2018 – Clean Toronto Together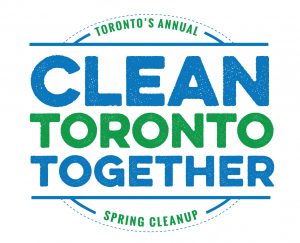 Scarborough Muslim Community invites you to:
Join us with your family and friends for the 2018 Clean Toronto Together Event in Scarborough
and help raise awareness for Cleanliness of our City.
A fun, learning and cleaning event for all ages.
Abu Zarr Al-Ghafari (may Allah be pleased with him) reported that the Prophet Muhammad (peace and blessings be upon him) said,
"Removing harmful things from the path is an act of charity."  (al-Bukhari and Muslim)
This year we will be gathering at two locations in Scarborough:
Rosebank Park, ( ) behind Burrows Hall Library

Gathering at 10.00AM
Cleanup efforts will cover sidewalks around Markham/ Sheppard Ave Intersection and Islamic Centres in vicinity.

___________________________________________________

Thomson Memorial Park on 1005 Brimley Rd, M1P 3E9, just north of Lawrence.

Gathering at 12.00 Noon
Cleanup efforts will around the Thomson Park Area and Islamic Centres in vicinity.

___________________________________________________
Smaller teams of 5/6 people will be assigned a small area.
Cleanup effort will last for about an hour .
Team members are encourage to take pictures of number of bags collected and email us at info@ScarboroughMuslims.com
The team that collects most bags will get a gift card.
Participants will given cleanup gear and T-Shirts.
Light refreshments will be provided.
To Register as Volunteer: Click Here
Visit us on Facebook Event Page: Click Here.
______________________________________________________________________________________________
2018 – Family Day Walkathon
All Praise for God Almighty, this year the generous Scarborough Muslim Community raised around $200,000 in pledges for Scarborough Rouge Hospital Foundation.
This is in Addition to $60,000 raised during 2014 and 2015 Family Day Walkathon events.

Monday 19 Feb 2018 from 10.30AM to 12.30pm
Scarborough Civic Centre, 150 Borough Drive behind Scarborough Town Centre.
www.ScarboroughMuslims.com
Scarborough Muslim Community extends the bonds of its families, beyond its own, to the community at large. The Scarborough and Rouge Hospitals have been a beacon of hope for our community, rendering life-saving and health promoting services. There is hardly anyone in Scarborough, who can say they do not have a friend or relative who has been touched by these services. Scarborough Muslim Community feels that supporting and appreciating the Scarborough and Rouge Hospitals is much needed and is consistent with the teachings of Islam and the example of Prophet Muhammad, may peace be upon him, who tirelessly worked hard to ease the hardship and for the betterment of the society that he lived in.
We have organized a Walkathon on this occasion to raise funds to enable the Scarborough and Rouge Hospitals to purchase essential diagnostic equipment. This event will be on the Family Day, Monday February 19, 2018 at the Scarborough Civic Centre from 10:30 am to 12:30 pm. All the local MPs, MPPs and Councilors, including the Honorable Mayor John Tory have been invited. Representatives of Scarborough and Rouge Hospital will also be present. This will be the 4th year that we are conducting this event. Previous events were well-attended and successful. We would like to make this year's performance even better than before. We earnestly invite all to join us in this great cause, as a donor and/or volunteer.
This event does much more than simply raising money. It is one way to help our children develop their sense of philanthropy and social responsibility. It helps them see that we're all connected and that giving to others also makes them feel good about themselves. It is an important message that they will take home.
For further details, please contact:
Email: info@ScarboroughMuslims.com

Asad Chowdhury: 416 281 4629

Ubaidul Jabbar: 416 949 0743

Khalid S Khan: 647 284 2851
For further information, please visit:
www.friendsOfSRHFoundation.com
____________________________________________________________________________________________________________
Past Activities:
Clean Toronto Together – 2017


Join us for the 2017 Clean Toronto Together Event in Scarborough and help raise awareness for Cleanliness of our City.
This year our target is to cover sidewalks around Markham Road and Sheppard Ave Intersection, details will be provided shortly.